EXCLUSIVE: VERONA BLUE TALKS 'V/H/S/99' AT TIFF 2022
We chatted with Verona Blue, whose new film V/H/S/99 screened at the 2022 Toronto International Film Festival. She talked about her journey in the acting world, taking time out to train in theater and weapons before landing in LA to chase her acting dream.
Horror Geek Life: Can you talk about your journey from Toronto to London to LA and how you discovered acting?
Verona Blue: Yeah, I was born and grew up in Toronto and moved to England in 2007 to go to theater school. I moved to LA three years later. I think so many people become actors when they're kids because they're really gregarious and encouraged to sort of be a show-off. But for me, my parents are very into supporting the arts even though they didn't work in the arts. I would go to the opera and Roy Thomson Hall all the time growing up, and we would go to all the Mirvish shows. I think I saw Phantom of the Opera a thousand times, so we were really into just participating in that.
I've always had an unhealthily obsession with television; I just love the medium because you have so much more time to get to know these characters than in a movie. So when I was a little kid, I wanted to be an actor, and my parents put me in children's theater, and I went to the National Music Camp of Canada for musical theater. I was in a private school, but I was in a performing arts school, so it was more academics, unfortunately for me, which is definitely not my strongest area. 
RELATED: 'HELLRAISER' HAS GIVEN US 35 YEARS OF PAIN AND PLEASURE
When I graduated from high school, I went to Ryerson for Film and New Media. I got into the filmmaking digital media type department and went into web development as a job. I was working in Toronto at the Canadian Breast Cancer Foundation doing their website and marketing, but I kept meeting actors, getting along with them, and being intensely jealous. I'd kind of given up on acting because I was never really encouraged to pursue it as a job, so after a couple of years of just being around these people, I decided to give it another shot. It was one of those things where I didn't know if I actually still loved it or if I'm just obsessed with the idea of it.
I did a summer in England at the Royal Academy of Dramatic Arts, focusing on a Shakespeare-intensive type of training. It's a long day, 7 a.m to 7 p.m, that's what theater school is really like, especially in England, and at the end of that, I was reminded how much I really did love it. I started applying to grad programs in the UK for theater school, and I got into the Bristol Old Vic Theater school, which is where Patrick Stewart, Daniel Day-Lewis, and a bunch of the cast of The Crown went, so they produced a lot of really great actors and it's a tiny school. Being an actor was never considered the first option for me when I was sort of growing up, but I was encouraged to play in space, so I sort of abandoned everything to really go for it, and here we are!
Horror Geek Life: Along with classical training, how did you come to excel at weapons and combat? 
Verona Blue: When you do classical theater school or conservatory training, you get these full-body classes, so when you do your voice class, you're learning accents, learning to breathe, and not just sitting in a chair and earning to talk. One of the things you learn is combat because if you're going into the classical theater, there's so much fighting in it. You have to learn stage combat, learn sword handling, and then depending on your interests and whether you're athletic, you can do other weapons.
I was athletic, especially at the time, and I was powerlifting, so I was really strong, and my cardio was great. Weapons are really fun, and the swordmaster of the school, Jonathan, he's amazing, approachable, and encouraging. It can feel very intimidating, and he's not like that. He loves it and teaches around the world. He really wanted everybody to just do their best.
Horror Geek Life: When you landed in LA, was there a plan for what you wanted to do, or did you jump into the business?
Verona Blue: That's a great question. There was kind of a loose plan, you could say. I was married at this point. My husband worked for Google, so he transferred, and we were able to land a little bit more softly because he had a job waiting. We were very fortunate that we could find a house for rent while we were still living in London, we landed this very cool house in the Hollywood Hills, and he had a job. I did have a background in new media and web development, so my plan really was to hope for the best when it came to being a fresh face.
RELATED: 'PEARL' REVIEW: A PERFECT COMPLIMENTARY PREQUEL IN BOTH STYLE AND TONE
I was going to take my background in web development and try and find a day job or a contract that would keep us on our feet because LA is very expensive. I came in guns blazing, I was so excited for no more winters, and there are actors and opportunities here. I guess we did have a plan; it just wasn't a very exciting one. It was a very pragmatic plan of where we wanted to make sure we had jobs and then go from there.
Horror Geek Life: You have jumped around in your acting career, doing shorts, TV, and film voice work. You mentioned your love for television, so would that be your preference, or do you like to go back and forth between mediums?
Verona Blue: My goal is to be a regular character on a TV show. That, to me, is the most exciting opportunity because you get to become part of this world, and hopefully, the character doesn't die, and you get to grow their story. The thing that is so appealing about television is that from the day that you start playing a character, it can go anywhere.
I'd love to be in a show that is kind of an ensemble cast, so there are a lot of different kinds of personalities and potential conflicts and things that can happen. That is sort of how theater is. You get to have this rapport with the other actor, but in television, it's always new, whereas, in theater, you have to find the newness in the exact same thing every single night.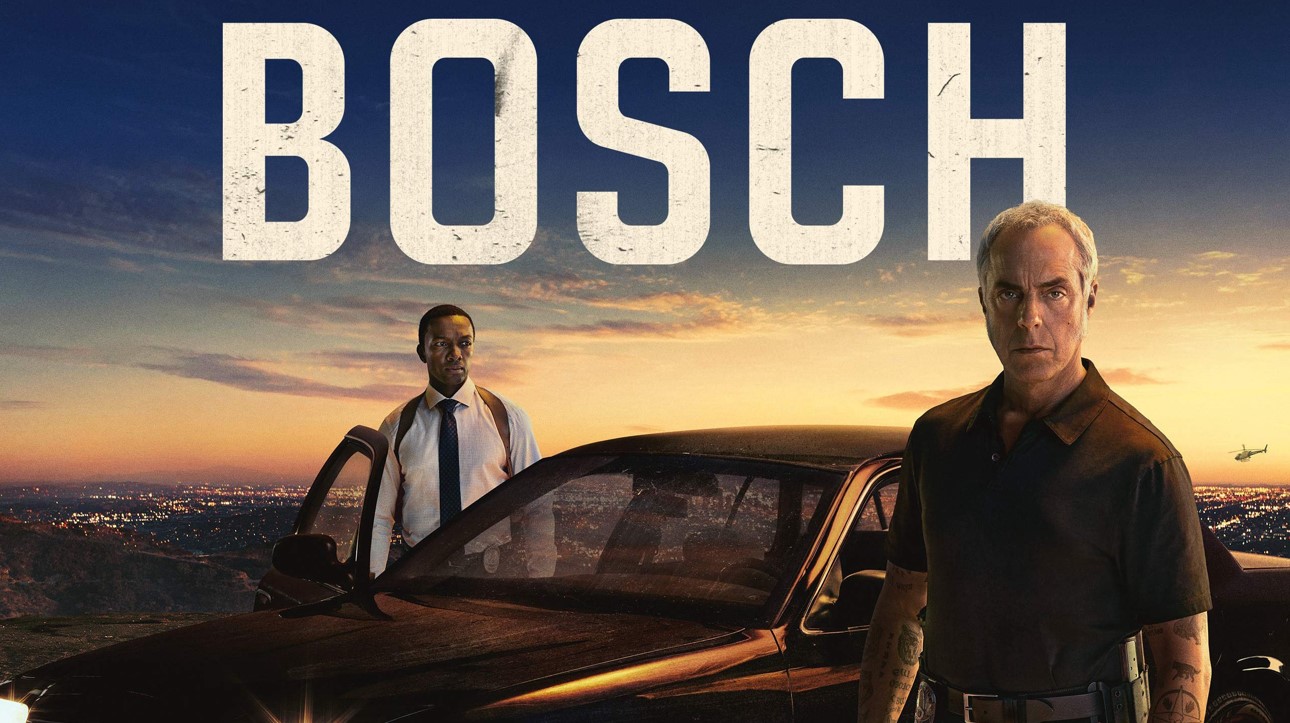 Horror Geek Life: How was your experience playing Shaz on Bosch?
Verona Blue: Bosch is such an intense show, and the actors are unbelievable as well. It really takes a very talented and extremely dedicated actor to do that kind of drama because it takes a toll on you. 
Shaz was so cool from the very beginning. When I auditioned for her, the breakdown said they wanted a real alternative type. They were not looking for a little beautiful angel to put in a costume. They were really hoping to find an actor who was actually covered in tattoos. They ended up making me take my piercings out, but they really wanted somebody who read as authentic, which is so rare.
RELATED: DANIELLE HARRIS WANTS 'FINAL SHOWDOWN' BETWEEN JAMIE LLOYD AND MICHAEL MYERS
She's a very beautiful but very palatable version of a counter-culture person that doesn't really exist for a variety of reasons. The fact that Bosch films everything on location, so you feel the authenticity of the world they create. It was such a great opportunity for me, and to be able to become established in this world was amazing. Shaz was only supposed to be in those first two episodes and never again, and I got to keep coming back, which was wonderful.
Horror Geek Life: Let's talk about V/H/S/99. How did that role come about for you?
Verona Blue: This was one of the easiest roles I've ever gotten in my life. The writer/director Maggie Levin, I've worked with her before, and she wrote the character for me. This was a really unique experience because I was able to see so much behind the curtain and view the process. 
As we had worked together before, and she trusted me, she sort of involved me a bit in the development of the character. I ended up doing my own makeup. I didn't have to, they had a makeup artist, but my character, Deirdre, is a hardcore post-punk goth with a white face. I talked to Maggie, and the makeup artist came up with this very beautiful template of what her makeup could look like.
V/H/S/99 is essentially a short film in this bigger world event, this anthology film, but it was like the one time when I really felt like an actor. I was like, oh, this is what it must be like to be like a famous actor where you can make these decisions, and you get to collaborate with the director. It was great; I'm so happy I got to do this.
Horror Geek Life: The horror genre and V/H/S films have a dedicated fan base. Did that make you nervous about meeting their expectations or more relaxed, knowing you already had a built-in fan base?
Verona Blue: I hope this movie is going to be a big hit with horror fans and the horror genre overall. I love horror fans and the horror genre. I mean, they're so loyal! I'm personally very excited about this film. Our segment is called "Shredding," and it's so authentic. Every person who's seen it has commented on the authenticity of the era, the 1999-ness of it. It feels like it's ripped out of time.
I feel like the horror community is so welcoming and also willing to try something new. They want to be scared in a new way. They want to see a new take on it, and if you consider found footage history, you have Blair Witch and Paranormal Activity. Every time you have a new found footage film, you need a new angle. You can't just do the same thing over and over again.
I think Maggie, the DP Alex Choonoo, and the editor Andy Holton did some crazy stuff on this one. Maggie bought a bunch of VHS tapes to create the authenticity of the tape over tape over tape. We filmed not only on a contemporary camera but used a 16-millimeter camera and some old Sony Handycam to make it feel very real. I think that the horror community is going to appreciate it, and I think film nerds will notice it.
Horror Geek Life: Are you excited to be back in Toronto and part of TIFF?
Verona Blue: I don't think I even realized it was a bucket list thing until they told me I was playing at TIFF. When I was younger, we used to go and pick up a couple of shows at the Carlton, and then when I was at Ryerson, we'd wander over to the bars and the parties and try to sneak in and see who was there. You see these celebrities just walking around, and it's such a big deal. It's commonplace to me now because I live in LA, and you just see people all the time, but back then, it was so exciting.
To be able to come back to the place where I grew up, to a city that I love, that I would probably still be in if it wasn't so cold (laughs), and as part of a movie at TIFF, it's amazing. While I'd like to be able to experience being part of a big prestige film at TIFF, being part of Midnight Madness is, I think, one of the best things about TIFF. I loved doing this film. What a great franchise to be a part of, and I hope the fans love it too!
Check out the Shudder release of V/H/S/99 on October 20, 2022.
https://www.horrorgeeklife.com/2022/09/27/exclusive-verona-blue-talks-vhs-99-tiff-2022/