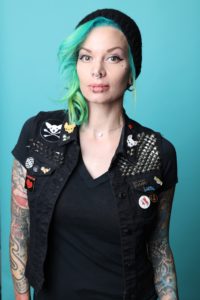 I'm originally from Toronto but I arrived in Los Angeles by way of London where I received classical conservatory training in voice, movement and text study, and excelled at weapons and combat.
I'm not exactly the girl next door, unless you're the Addams Family, and in that case I'm the toughest, no holds barred, takes no prisoners, most badass girl next door you ever met. Charming too, don't you think?
Technically I'm a goth, but I look and dress punk rock which can be confusing. However in a post Girl with the Dragon Tattoo world you'll probably just call me "edgy".
I'm not in a band but I play the drums badly and the flute exceptionally well. Either way the most important thing is that I look like a rockstar (but I try not to act like one).
I'm represented by
Television
| | | |
| --- | --- | --- |
| V/H/S '99 | Lead | Shudder/Studio71 |
| BOSCH | Recurring | Amazon Studios |
| WISDOM OF THE CROWD | Guest Star | CBS |
| L.A.'s Finest Pilot | Co-Star | Anton Cropper |
| SHAMELESS | Co-Star | SHOWTIME |
| MOM | Co-Star | CBS |
| MARRIED | Co-Star | FX |
Voice Over
| | | |
| --- | --- | --- |
| Nerdwallet | Voice Over | Barking Owl |
| Vader Immortal: A Star Wars VR Series - Episode II. | Stormtrooper VO | ILMXLABS |
| STAR WARS: THE RISE OFSKYWALKER | Additional Voices | Dir. JJ Abrams / DISNEY, Lucasfilm |
| SOLO: A STAR WARS STORY | Additional Voices | Dir. Ron Howard / DISNEY, Lucasfilm |
| STAR WARS: THE LAST JEDI | Additional Voices | Dir. Rian Johnson / DISNEY, Lucasfilm |
| ROGUE ONE: A STAR WARS STORY | Additional Voices | Dir. Gareth Edwards / DISNEY, Lucasfilm |
| STAR WARS: THE FORCE AWAKENS | Additional Voices | Dir. JJ Abrams / DISNEY, Lucasfilm |
| Battlefront 2 (videogame) | Additional Voices | EA Games, Lucasfilm |
Film
| | | |
| --- | --- | --- |
| MAGIC CAMP | Supporting | Dir. Mark Waters / DISNEY |
| DRIB | Supporting | Dir. Jack Perez / SyFy |
| DRONE WARS | Supporting | Dir. Kristoffer Borgli |
| REAL HEROES | Supporting | Dir. Keith Hartman |
| ERASING EDEN | Supporting | Dir. Beth Dewey |
| DADDY ISSUES | Supporting | Dir. Amara Cash |
Motion Capture
| | | |
| --- | --- | --- |
| Star Wars: Jedi Survivor | Performance Capture | EA / Respawn |
| STAR WARS Premiere | Sith Jet Trooper | RYOT / DISNEY |
| The Call of the Wild | Motion Capture | Fox VFX |
| "NEBULA" (Guardians of the Galaxy) - Marvel/Google Avatar | Motion Capture | Digital Domain |
| Borderlands 3 | Motion Capture | Halon Entertainment |
Commercial
| | | |
| --- | --- | --- |
| "Stealing Glances" | Principal | Facebook |
| XFinity "Delayed" | Principal | Comcast |
| Soccer "Debate" | Principal | Fox Sports |
| Dell Storage "TATTOO" | Supporting | Ogilvy / CDW |
| Nissan presents The Delivery | Supporting | Dir. Louis Leterrier |